Startup Genome just released the Startup Ecosystem Report.
The report (which you can download here) contains the first data-driven Ranking of the World's Top 20 Startup Ecosystems and  a deep dive into the each of the individual Startup Ecosystems
Here are the top 20, in order:
Silicon Valley
Tel Aviv <<

Israel is #2 in the world

Los Angeles
Seattle
New York City
Boston
London
Toronto
Vancouver
Chicago
Paris
Sydney
Sao Paulo
Moscow
Berlin
Waterloo (Canada)
Singapore
Melbourne
Bangalore
Santiago
How Israel's startups stack up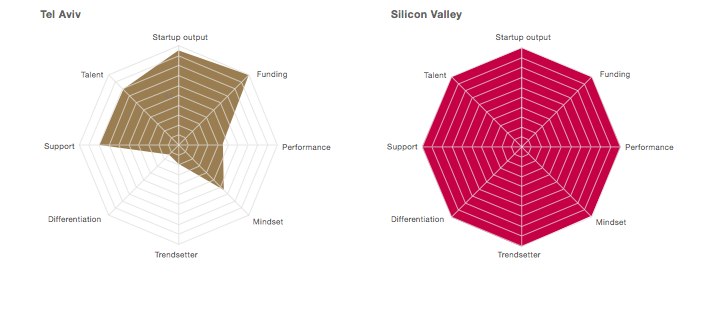 The report uses Silicon Valley as the index — a perfect 100 score. Israel ranks #2 in the world when compared to Silicon Value for the strength of its startup ecosystem. Israel ranks this high globally because "it has the 2nd highest output index of startups with a healthy funnel of startups across the developmental lifecycle, a highly developed finding ecosystem, a strong entrepreneurial culture, a vibrant support ecosystem, and a plentiful supply of talent".
Where Israel is strong as a startup culture
According to the report, Israel has a similarly educated entrepreneurial community (40% with Masters/PhD vs 42% in Silicon Valley). Startups in Tel Aviv actually employ as many people per stage as their Silicon Valley counterparts do. Funding is strong and working hours long.
How Israel is different than the Valley
The report found Israeli startups "less ambitious" than those in Northern California — 46% of Israeli startups tackle smaller markets than those in Silicon Valley. Maybe because of this, the report ranked Israel 12th (Israel's 2nd lowest ranking in any category) in terms of company performance (growth and revenue). The percentage of Israeli companies targeting markets $1B and below is 46% higher than in Silicon Valley.
Trend/technology adoption is lower in Israel. New programming languages, business models and management processes take significantly longer to find their way into the Israeli startup playbook (Israel ranked 17 in Trendsetting with only Chicago, Singapore, and Bangalore ranking lower). Israelis outsource less than 5% of product development.
It's also interesting to see how Israel ranked in Mindset. Israelis appear less risk tolerant than competitors in the Valley. In fact, Israeli entrepreneurs are 15% less likely to work full time in their startup compared to their peers in SV.
Putting Israel in context for startup investors
Israel is a small country of 7M and lacks a domestic (and really, regional) market. This impacts the markets Israeli entrepreneurs address and given how closely knit the entrepreneurial community is, we often lack a certain diversity which greases the free exchange of ideas and technologies.
What we see happening with many of the startups we're funding is that many of today's top entrepreneurs have spent significant time abroad, acquiring certain skills (like UI/UX, business development/sales) and they're bringing this know-how with them on their next Israeli startup.
While we do have occasional billion-dollar exits, Israeli firms tend to get acquired early in their growth cycles. The average acquisition price for an Israeli company was $71 million in 2011, 77% higher than in 2010. That makes it hard for large VC investors to make money, while rewarding early stage angel investors can make money in the Israeli model of M&A.
Israel is a great place to invest. It's an ecosystem of innovation, funding, and entrepreneurship. Buying Israeli bonds or public markets investing doesn't give investors the same feeling of plugging into the excitement in this country. To capture that? You need to tap into investing in startups.
Like we're doing at OurCrowd. Invest in Israeli ingenuity today.