Free eBook: Investing in a Miracle
The Smart Investor's Guide to Investing in Israel
The OurCrowd Guide to Investing in Israel is your comprehensive roadmap into the various opportunities to invest in Israel. Learn from experts who not only have successfully invested in the startup nation, but who have helped build it.
Download this eBook to get: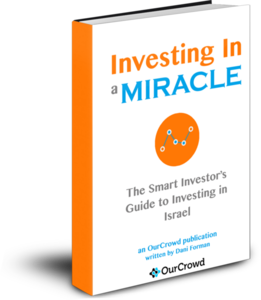 A broad understanding of how to invest in Israel's dynamic stock exchange.
Insight into the available options for investing in Israel's bond market.
An understanding of the various real estate options in Israel.
A lesson about the impressive performance of the Israeli shekel.
Guidance and insights for investing in Israel's fast pace, vibrant startup ecosystem, from professionals directly involved in the industry.
OurCrowd is a leading global equity crowdfunding platform, and your eyes and ears in the startup nation.