The team at OurCrowd is proud to announce the launch of our new social investor app!
Yesterday, our Chief Product Officer Shai Ben-Tovim took the stage at Finovate Spring San Jose to present and live-demo the OurCrowd App, which provides investors with unprecedented access to deal-flow, real time investment information, and greater connectivity to OurCrowd's 12,000 strong global community.
The OurCrowd App empowers investors by making investment discovery, discussion, and decisions more insightful, robust, and connected.
"Until now, private investing has been conducted in a very traditional, old fashioned and often inefficient way. We are bringing the benefits of connected mobile commerce to the start-up investing market." ~ OurCrowd's Founder and CEO, Jon Medved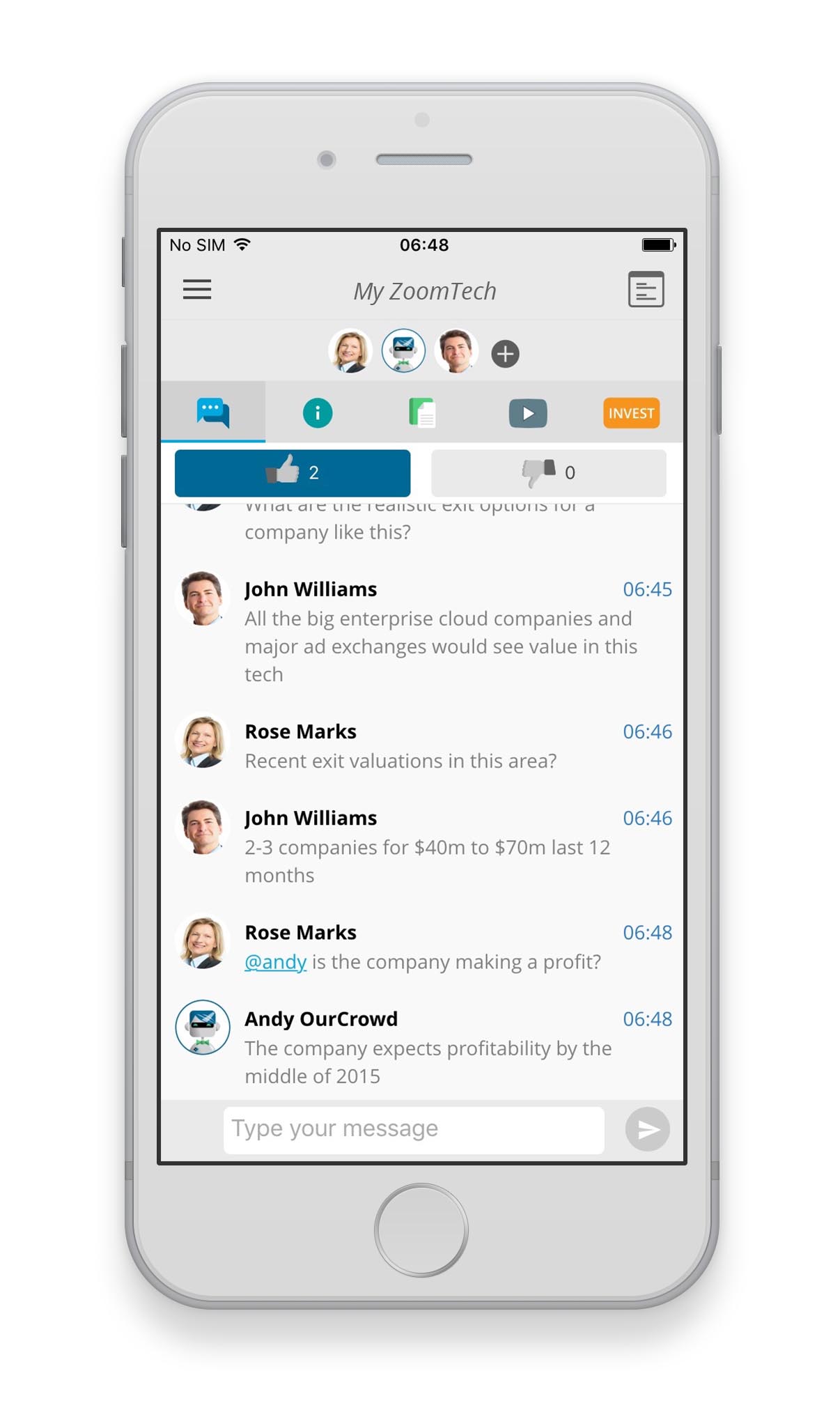 The OurCrowd App features include:
High quality, professionally-vetted dealflow: Choose how deeply to dive into diligence material, including video, webinars, articles, and the OurTake report.
Personalized Deal Rooms: All investment opportunities and diligence material are organized in your own private, secure deal rooms on the app.
Share, discuss and review: Invite trusted contacts to join your deal room chat to rate and discuss opportunities.
New sources of insight: Discover and curate insight, expertise and opinions from OurCrowd's investor community.
Real time updates: Push notifications that keep you up to date on new deal launches and major portfolio updates.
The launch of the OurCrowd App represents a significant expansion of our company's leading global equity crowdfunding platform. As OurCrowd continues to grow its technology and product team, we will pursue and innovate our social investing tools, thus cementing OurCrowd's position as the leading equity crowdfunding platform and a world-class technology company.
Want to join the community and learn more?
Download the OurCrowd App on the App Store or on Google Play.
Note: The app is intended for and best utilized by accredited investors only. If you are an accredited investor, please visit the OurCrowd website, click "Join," and sign up to OurCrowd. 
Read the full press release here. Learn more about the OurCrowd App here.