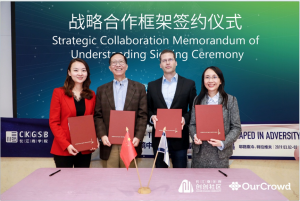 OurCrowd Partners with CKGSB Chuang Community to Build a Global Innovation Ecosystem
The collaboration will foster an exchange of ideas, know-how and technology between China's burgeoning tech ecosystem and leading Israeli startups
(From Left to Right) CKGSB Chuang Community Program Director Qu Yunfan, CKGSB Professor Xu Chenggang, OurCrowd Managing Partner, Asia, Denes Ban and OurCrowd Managing Director Joyce Ng
Jerusalem – March 7, 2019 – OurCrowd, a leading global investment platform and Israel's most active venture investor, announced today the signing of a strategic cooperation memorandum with the Cheung Kong Graduate School of Business (CKGSB) Chuang Community, an entrepreneurship ecosystem at China's biggest independent business school, to develop a global innovation ecosystem and strengthen the bond between the Israeli and Chinese tech communities.
The flourishing relationship between the tech ecosystems in China and Israel has led to many opportunities for growth and innovation. In this spirit, CKGSB Chuang Community and OurCrowd will collaborate on activities, curriculum and the integration of capital and industrial resources to establish strong links between the program and leading Israeli startups. As part of the agreement, executives of OurCrowd portfolio companies will be eligible to join CKGSB Chuang Community's Next Disruptor Global Business Camp, participate in global roadshows hosted by CKGSB Chuang Community, and participate in various alumni activities and forums organized by CKGSB and CKGSB Chuang Community around the world.
At the signing ceremony, Professor Xu Chenggang, CKGSB Professor of Economics and winner of the 2016 China Economics Prize, said: "Israel has become one of the most innovative places in the world by embodying the spirit of wisdom, debate and chutzpah, and China has seized the opportunity of industrial change to develop innovative models and practices across different sectors. The partnership between CKGSB Chuang Community and OurCrowd combines the best of both, and we're certain it will spark a new level of innovation and cooperation."
On hand for the signing ceremony were CKGSB Professor Xu Chenggang, CKGSB Chuang Community Program Director Qu Yunfan, OurCrowd Managing Partner, Asia, Denes Ban and OurCrowd Managing Director Joyce Ng.
"I am deeply impressed by the innovative education model, the worldwide network of elite alumni and the strong cohesion of CKGSB community" noted Denes Ban, OurCrowd Management Partner in Asia. "A large number of new entrepreneurs with global influence have emerged from CKGSB Chuang Community. OurCrowd looks forward to sharing fully with the program resources, talent and capital to build an innovative ecosystem that runs through China and Israel in the future."
Professor Liu Jin, Associate Dean of DBA Program and  Chuang Community, Accounting and Finance Professor, fully affirmed the significance of this partnership, and remarked: "This is an important step in achieving CKGSB Chuang Community's goal of establishing a global entrepreneurial innovation ecosystem, and I look forward to both sides bringing their unique advantages to the table. It will not only enable Israel's outstanding entrepreneurs to reach China's vast market and capitalize on rich opportunities, but will also bring Israel's advanced technology to China where it can help with industrial upgrading as well as promote technological exchanges and complementary advantages between the two sides."
This announcement was made at the 2019 OurCrowd Global Investor Summit in Jerusalem, the largest technology showcase in Israel with over 170 startups and 17,000 registered attendees.
About OurCrowd: OurCrowd is a global investment platform, bringing venture capital opportunities to accredited investors worldwide. A leader in equity crowdfunding, OurCrowd is managed by a team of seasoned investment professionals and is led by serial entrepreneur Jon Medved. OurCrowd vets and selects companies, invests its own capital, and invites its accredited membership of investors and institutional partners to invest alongside in these opportunities. OurCrowd provides support to its portfolio companies, assigns industry experts as mentors, and creates growth opportunities through its network of strategic multinational partnerships. The OurCrowd community consists of almost 30,000 accredited investors from over 150 countries. OurCrowd has raised $1 billion and invested in 170 portfolio companies and funds. To join OurCrowd as an accredited investor visit www.ourcrowd.com and click "Join."
About the 2019 OurCrowd Global Investor Summit: The OurCrowd Global Investor Summit, Where the startup world gathers. The 2019 OurCrowd Global Investor Summit, taking place March 7th in Jerusalem, Israel, is one of the premier events in the tech industry, and the largest business event in Israel's history, with 17,000 expected to register to attend. The Summit provides an interactive, front-row seat to the formerly closed world of startup venture capital, with exclusive exposure to cutting-edge technologies, the entrepreneurs behind them, and the corporate leaders deploying them. Top investors, venture capitalists, corporate partners, entrepreneurs and journalists come from around the world both for Summit day as well as a week of events that include tours of the Israeli ecosystem, corporate meetups, and cultural and historical excursions. Thousands more will participate through livestreaming. Learn more at summit.ourcrowd.com.
About Cheung Kong Graduate School of Business (CKGSB): Established in Beijing in November 2002 with support from the Li Ka Shing Foundation, CKGSB is China's first faculty-governed and independent business school. CKGSB boasts more than 40 full-time professors, many of whom previously held tenured faculty positions at leading business schools such as Wharton and Yale. Their research has provided the basis for more than 400 case studies of both China-specific and global issues. CKGSB also stands apart for its unmatched alumni network. More than half of CKGSB's 10,000+ alumni are at the CEO or Chairman level and, collectively, they lead one fifth of China's 100 most valuable brands.
Headquartered in Beijing, CKGSB is also located in Shanghai, Shenzhen, New York, Hong Kong and London. The school offers the following innovative courses: MBA, Finance MBA, Executive MBA, Business Scholars Program (DBA), and Executive Education programs.
About CKGSB Chuang Community (Chuang in Chinese means startup, entrepreneurship, and innovation):  Founded in 2015, the community has built a solid startup community in China based on CKGSB's powerful entrepreneur alumni network, with 400+ startups in this community. 5 start-up programs are running each year, including 3 co-brand with Tencent, Baidu and JD.com, and 2 flagship programs which are VC Star program focusing local start-ups and The Next Disruptor Program with global perspective
For more information, please visit http://english.ckgsb.edu.cn/ and follow us on Twitter: @CKGSB
For Press Materials: https://blog.ourcrowd.com/CKGSB
OurCrowd Press contact: Leah Stern, OurCrowd Dir. Of Communications / UK: +44 747-0196826 / E: leah@ourcrowd.com / Aaron Kliner at aaron@headline.media / IL: +972 54-8143742