Today, access to quality investment opportunities are no longer a luxury reserved for the well-connected. Everything from startups to real estate development projects are now available to the masses for investment. This access has garnered lots of attention from prominent investment thought leaders. One of the biggest issues they're grappling with is how to educate the public to make sure they are investing responsibly in these new, often risky asset classes.
In this post, we're going to talk about what Brad Feld refers to as a new, official trend in the world of venture capital.
The Opportunity
What's this new trend we speak of? In January 2011, Union Square Ventures launched their first "Opportunity Fund." The fund was formed to invest exclusively in USV portfolio companies raising follow-on rounds of investment. This investment strategy was born out of the realization that a majority of returns in a fund are generated by a small number of the portfolio companies. Fred Wilson, USV's founder and managing partner described the rationale behind launching the fund in 4 basic points:
"This fund is meant to complement our core funds, not take us in a new direction. The availability of this additional investment vehicle will allow us to:

1) Continue to invest in our most established and successful companies
2) Invest in more established networks that have been funded initially by others
3) Invest in special situations like the spin out of a network of scale
4) Respond to attractive opportunities as the broader market continues to evolve."
USV may have been the first, but since 2011, The Foundry Group, Greycroft Partners, YCombinator, DFJ, and others have jumped on the bandwagon, raising their own opportunity funds.
Let's focus on Fred's 1st point.
Investing in Established, Successful Companies
Most startups will raise multiple rounds of investment throughout their lifecycle. If the company is performing well, they will raise future rounds at a higher price point, or valuation (also known as "up rounds").  Perhaps the most important deal term often negotiated by early stage investors is preemptive rights. A preemptive right grants an investor the option to maintain their current ownership in a company, by investing an additional pro-rata amount of any new stock issued.
Let's plug in some numbers:
Steve owns 10% of a startup called ZMS. ZMS is performing really well and is approached by a new investor to lead a $10M series B round of investment. As an investor in the series A with preemptive rights, Steve now has the right to invest an additional $1M into the series B, in order to maintain his 10% ownership.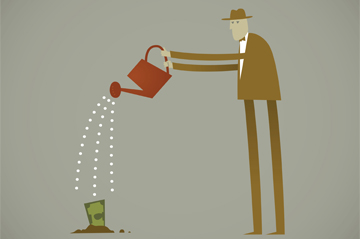 While the risk factors are still very real at this point, some of the guesswork is removed. As an investor with preemptive rights, you can choose to only participate in investment rounds in companies that are performing well and showing promising traction. 500Startups' Dave McClure's investment strategy could not be more relevant than in this case: Invest before product/market fit, double down after.
John Backus of New Atlantic Ventures, describes the fierce competition between funds to get into to top performing companies.
Every venture firm wants to invest in the handful of companies that generates the highest return. They compete vigorously for the chance to invest in these companies. Those who pioneered opportunity funds recognize that, while everyone competes to invest in the best companies, there is a better way to get access to these very best companies – and that is to already be an existing investor."
With this basic understanding of investment rounds and preemptive rights, we can now better formulate the real value-add of follow-on funds: leveraging preemptive rights to gain access to companies hitting their major milestones and aggregating these up rounds into one fund product.
Diversification
Diversification is a topic that our team has covered pretty extensively and one that, frankly, cannot be stressed enough. Investing in a diverse group of companies has been statistically proven to improve the probability of a profitable portfolio.
By building a portfolio, your bottom line is protected from single company risk. This basic investment principle is what makes investing in a fund so appealing. Your returns are based on the performance of the entire fund, meaning the diversification is inherently built in. Investing in a fund of follow-on rounds, companies who have grown out of their infancy, gives investors both diversification, and exposure to lower risk, later stage startups.
Case Studies
As we mentioned earlier in this post, even though opportunity funds are a relatively new product offering, lots of funds have picked up on the trend, raising their own funds:
Union Square Ventures ($135M): After passing on follow-on rounds in Zynga and Twitter due to lack of capital, USV became the first in the pack to raise an opportunity fund.
Foundry Group Select Fund ($225M): The fund is currently showing an impressive 116.07% IRR according to Pitchbook. This is the highest performing IRR of any previous Foundry Group fund.
Y Combinator Continuity Fund ($700M): With over 1,000 companies in the Y Combinator portfolio, CEO Sam Altman decided to raise a $700M fund to invest in all YCombinator follow on rounds, below a $300M valuation.
Greycroft Growth Fund ($200M): According to co-founder and managing partner, Ian Sigalow, the $200M growth fund was raised to have "the ability to have dry powder to support our best  companies."
Introducing OC²
With over 100 companies in the OurCrowd portfolio, the next natural step was for us to launch our own opportunity fund, which we've referred to as a "continuity fund." This fund allows OurCrowd's investors to gain exposure to the some of the best performing OurCrowd portfolio companies, whose progress we've been able to track since our first investment.
OC² invests in OurCrowd portfolio companies raising up-rounds, led by other institutional investors. One of our core investment philosophies is what we refer to as sponsorship. Investing alongside great co-investors, at a higher valuation, is an additional vote of confidence in a company's strong, positive momentum.
David Stark, partner on OurCrowd's investment team, discusses the OC2 opportunity